ACUVUE CibaVision Bausch and Lomb CooperVision
Contact lenses liberate a person from the restrictions of eyeglasses. Tennis, running, golf and many other active pastimes are made easier with the use of contact lenses. Extensive experience and access to a wide variety of contact lenses make it possible for the doctors at Advanced Eye Care Associates to fit most patients with contact lenses.
We also provide Custom Specialty Contact Lens Services. Our Specialty contact lens services include sclerals, minisclerals, custom soft, custom gas permeables , astigmatic, bi-toric, multifocal, toric multifocal as well as oblate designs. Many patients with Keratoconus, Pellucid, post corneal transplant irregularities, post refractive surgical irregularities, post traumatic irregularities, high refractive error, irregular astigmatism, ocular surface disease and severe dry eyes can benefit from these lenses.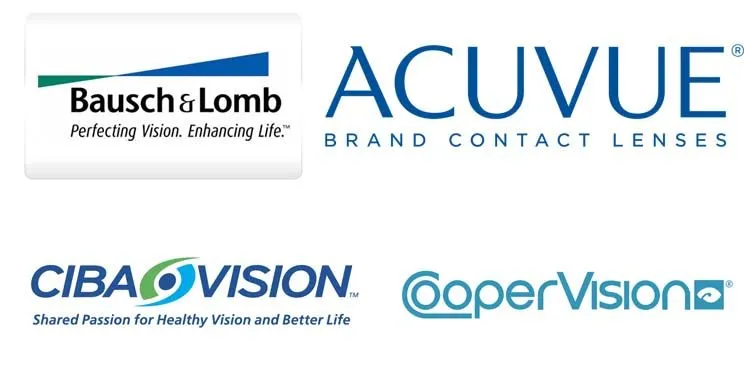 Some of the vast options available to today's contact lens wearers include:
Daily Disposable Contact Lenses – contacts that are worn for one day and then discarded; excellent for those with allergies and dryness; no cleaning; very convenient.
Extended Wear Contact Lenses – contacts that the FDA has approved for continuous wear, up to 30 days; an alternative to laser vision correction; no cleaning; very convenient.
Bifocal Contact Lenses – contacts that allow people who require a bifocal to see both far away and up close through the same contact lens; eliminates the need for reading glasses over standard contacts.
Toric Contact Lenses or Astigmatic Contact Lenses – contacts that correct astigmatism; newer powers allow successful fitting of people with very high amounts of astigmatism.
Color Contact Lenses – contacts that change the color of the wearers eyes; available in prescription and non-prescription powers.